BUY ADAMANTIUM COINS HERE:
http://euotopia.com/buy.php
You don't need a paypal account.
If you need to send money for whatever reason, eg for a restore, house or xp transfer, go to the buy page and down the bottom there is 'make other payment' - please do not donate money to me as paypal will accuse me (again) of being a terrorist!




YE OLDE CASH SHOPPE



With every adamantium (addy) coin you spend you help ward off starvation by another day for Ripley and help me inch closer to 'qutting my day job'!
Addy coins are 10c each from the buy page
http://euotopia.com/buy.php
here is what you can buy with addy coins:
-
custom title (

new!

)
: for 50 addy coins you can change your title to a custom one via the /customtitle command. You can have as many titles & custom titles as you like, selectable via /settitle
-
respec certificate
: for 50 coins ($5) you can buy a respec cert, which lets you use the /respec command which lets you rearrange your stats! (and /repec2, allowing you to multiclass immediately)
-
hearthstone
: for 20 coins ($2) you can buy a stone that will teleport you to your home (don't buy one of these if you don't have a house!)
-
pet transfer deed
: you will need one of these if you want to get a pet transferred to you
-
recall runes
: allow you to mark/recall anywhere that the mark/recall spells & scrolls work (ie not in dungeons) - available in 3 colours (providing up to 3 additional mark/recall slots)
-
pet runes
: each rune is a portable stable. The steel rune provides access to the Strangiato stable (for free), the iron and copper runes are 2 new stables - allowing up to 4 pets total!
-
named-item certificate
- allows you to name a weapon or indeed any item so that it glows purple - see below
wands
-
wand of petrification
: zap a monster with this wand and get a pretty and collectible statue for your house!
-
greater wand of transfer
: same as a wand of transfer but does not require enchanting skill nor requires a charged shard
-
wand of statue orientation
: zap this on any statue to make it switch poses! - infinite uses
pet wands
-
pet dying
: allows a white or grey pet to be dyed any colour
-
dragon blanking
: makes any dragon white in colour, allowing it to be dyed
-
happiness
: will make a pet never leave you due to unhappiness
-
hp, int wands
: increases your pet's HP and INT by 20% permanently
scrolls
-
portable banker
: for a lousy 1 coin you can summon a bank that you can access anytime in any dungeon, day or night
-
house banker
: a banker for your house - never sleeps
-
unequip sigil
: allows you to unequip a sigil and have it returned to your inventory
-
dyeable container ie greater container scroll
:
-
demyth scroll
: allows you to demyth any item and get the mythification ingredients back
MOUNTS
see the little fella with the hat in
Dryden
!
- brown horse -
req lvl 10 - only 20 coins!
- rideable cow - req lvl 50 - 50 coins
- rideable rabbit - req lvl 75 - 50 coins
- dyable horse - req lvl 50 - 90 coins
- dyable drake (flying) - req lvl 50 - 150 coins
RACE CHANGE!
Race changes are a flat 50 addy coins ($5) and are available from Ye Old Cash Shoppe.
AVATARS
Avatars are for sale via the cash shoppe for addy coins - prices vary from $2 for a starter av to $8 for a monster av. All avs come with scrolls. If the av you want is not in the shoppe then ask - but don't ask about demons, dragons, shadowmonsters, blood-mobs as the answer will STILL be NO.
PD/NG: av prices on pd & ng servers are capped at 40 coins ($4). You can also have any av you like on pd.
KNOW the risks of owning a PD avatar!
if you die - you lose the avatar! Do not buy one if you are not prepared to buy res stones.
Custom avatars are
STILL NOT
for sale.
DYE SHOPPE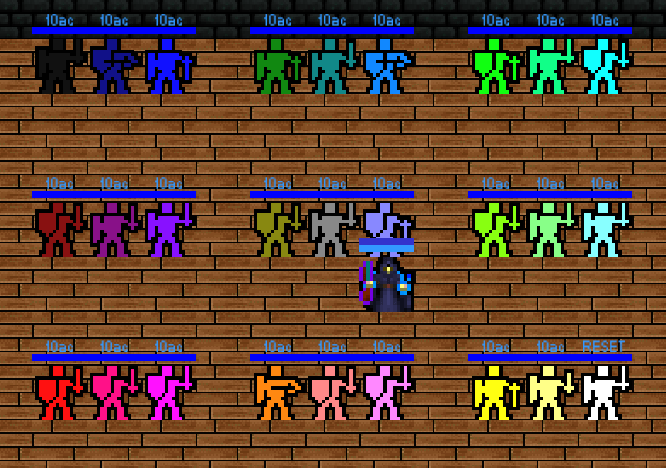 Many avatars can have their grey pixels dyed / tinted at the dye shoppe. Each tinting costs 10 addy coins.
CUSTOM TITLES
Custom titles are now purchasable with Addy coins via the cash shoppe, on all 3 main servers ! Just buy a custom title certificate which allows you to use the /customtitle command
Custom titles are now fully self service, so please refrain from offensive titles, yada yada, with myself being the sole judge on what's offensive & what isn't, and if deemed offensive your new custom title will be revoked and your 50 AC NOT refunded
ps: if your character dies on PD with a custom title the title dies with your character, so obviously no warranty there
NAMED WEAPONS (and almost anything) - 75 coins
You can buy a certificate that allows you to name just about any item, and it's fully self serve. Price is 75 coins ($7.50). Here's how you do it:
i) go to the shoppe and buy a named item certificate, from a merch in the north east area
ii) use the /nameweapon or /nameshield or /nameboots command to give the name to your equipped weapon, shield, boots, etc (see
http://euotopia.com/manual/index.php/Slash_Commands
for the list of /name commands)
iii) name cannot have '.' and doesn't work on artifacts. Process can be reversed by buying another certificate and using /nameweapon NOTHING
iv) your named item will glow purple and be 'named'
HEADS
They are a bit like hats
OTHER SERVICES FOR SALE VIA THE WEBSITE
http://euotopia.com/buy.php
XP TRANSFER
For the price of 10c per level for the reg server ONLY, and 5$ minimum will remove xp from one character and put it onto another.
Both characters must be on the same account and on reg server, NO EXCEPTIONS
. (yes we all know emo got his brother's xp but i) they were brothers ii) that won't ever be happening again!!)
This is a transfer of XP
, not levels, so moving 50 levels of xp from char X to char Y who is already lvl 100 will NOT translate into lvl 150 on char Y - maybe closer to barely 5 levels!
The chars that are getting the xp removed will be reset to level 1, and may be deleted next prune - so empty their banks. I won't transfer SOME xp off that char: it's all of it or nothing.
If this service enthuses you, email me
euo@swut.net
here's the xp table if you want to cheese max value outa the system:
http://swut.net/euo/files/euo_xp_table.xls
RESURRECTION STONES! - $5
$5 each. Think of it as life insurance. via the website.
RES STONES DO NOT WORK IF THEY ARE IN THE BANK. DO NOT KEEP RES STONES IN THE BANK!
CHARACTER RESTORATIONS / RESURRECTIONS are NO LONGER FOR SALE!
CHARACTER RESTORATION
starting from $10 I'll restore your dead character from a backup. Max 1 week death only, as characters are permanently lost after that. Characters are now backed up hourly so your corpse should be pretty fresh! Restored characters have their inventory wiped, except for banked items. See http://euotopia.com/buy.php for pricing. ALL restorations now come with a free rez stone!
HOUSING

-

Now Available!
Custom housing:
You can lease a custom house for 20c per square. Housing availability varies from time to time. Please see the post below about housing availability!
Basements
20c per square, 10x10 max size. Basements are always available, and can be linked to your GP house.
Extensions
20c per square!
Getting a second house on PD and or NG!
If you already have $ housing on Reg then you can buy more land or a basement on PD or NG for half price - ie 10c per square. Reverse is true - ie if you have a $ house on PD then you can get one on reg, or even NG for 1/2 price.
8x8 housing for gold coins:
Now on Reg, NG and PD - you can buy a plot of land for ONLY 50k GP! Scroll down to next post or more details.
EMAIL ME
euo@swut.net
if you want a house or basement! First come first served. The post below has detailed info about housing - please read it!
PORTALS FOR YOUR HOUSE - $5
Portals are $5 - they can be set to teleport you to any town in New Sosaria. PM or email me if you want one for your house
NAME CHANGE - $5
$5 to rename one of your chars on reg
NOT FOR SALE!! - DON'T ASK!
xp transfer from characters on different accounts
transfer of any char from PD to reg - these are not happening!